France – Nice (June 2018)
This weekend we celebrated the bachelorette party of one of my friends with a group of 6 girls. We decided to go for Nice as we heard Nice has it all: beach, parties, beautiful narrow streets, good food, etc. After 2 days in Nice I have to say it did not disappoint and even exceeded expectations 🙂 My advice is to take accommodation close to old town (we rented a lovely airbnb near Rene Socca restaurant where you should absolutely try their Soccas).
Day 1
We started with brunch at Marinette. They had this lovely granola, yogurt, honey and red fruits combo as well as pancakes and good coffees. We continued with a Free Walking tour (starting at 11am each day besides Sundays at place Massena) which lasted about 2.5 hours and which we truly enjoyed. One highlight was the walk up to Castle Hill, which is a must for Nice visitors and the beautiful Promenade des Anglais (the coastal road). A true combo of storytelling, history and good recommendations for gelato (Azzuro) 🙂
In the afternoon, we went to Villefranche sur Mer for some beach time, which was a 30min bus (or train) ride from Nice. We really enjoyed it, although it was a bit crowdy as it was Saturday.
In the evening we had dinner at Comptoir Electrique restaurant, which had good food and wine (I had fish, others took the truffle ravioli and the foie gras risotto). The atmosphere was lovely, a great place for a bachelorette evening 🙂 We then went to Wayne's, a popular bar amongst tourists for a fun bachelorette scavenger hunt.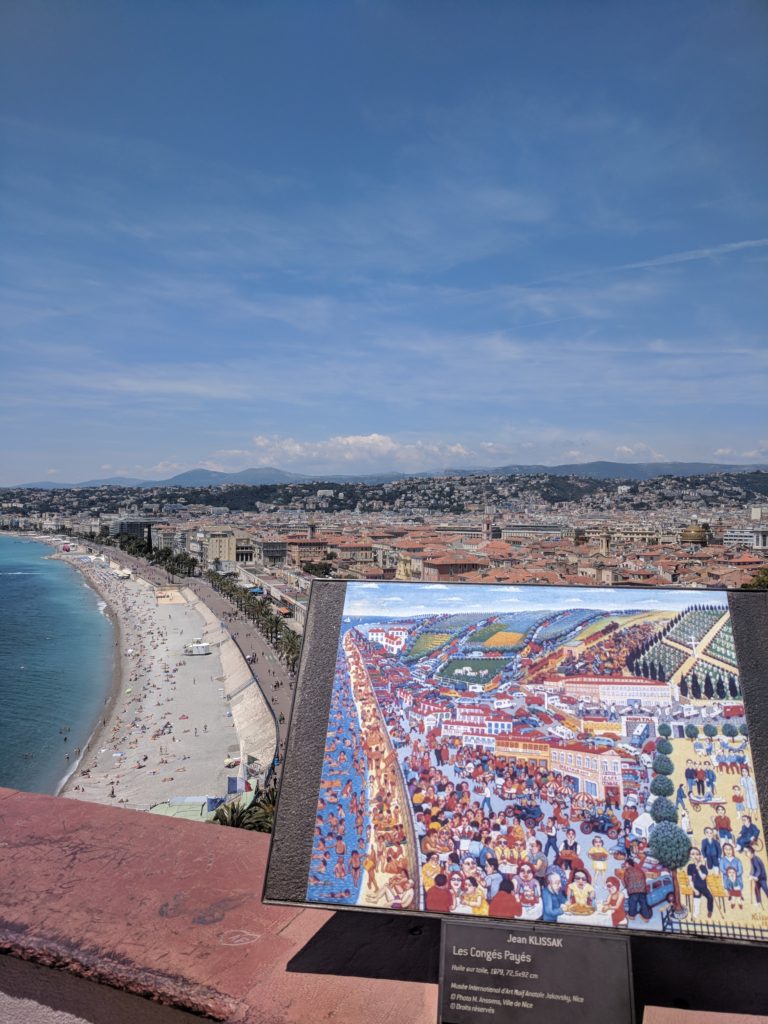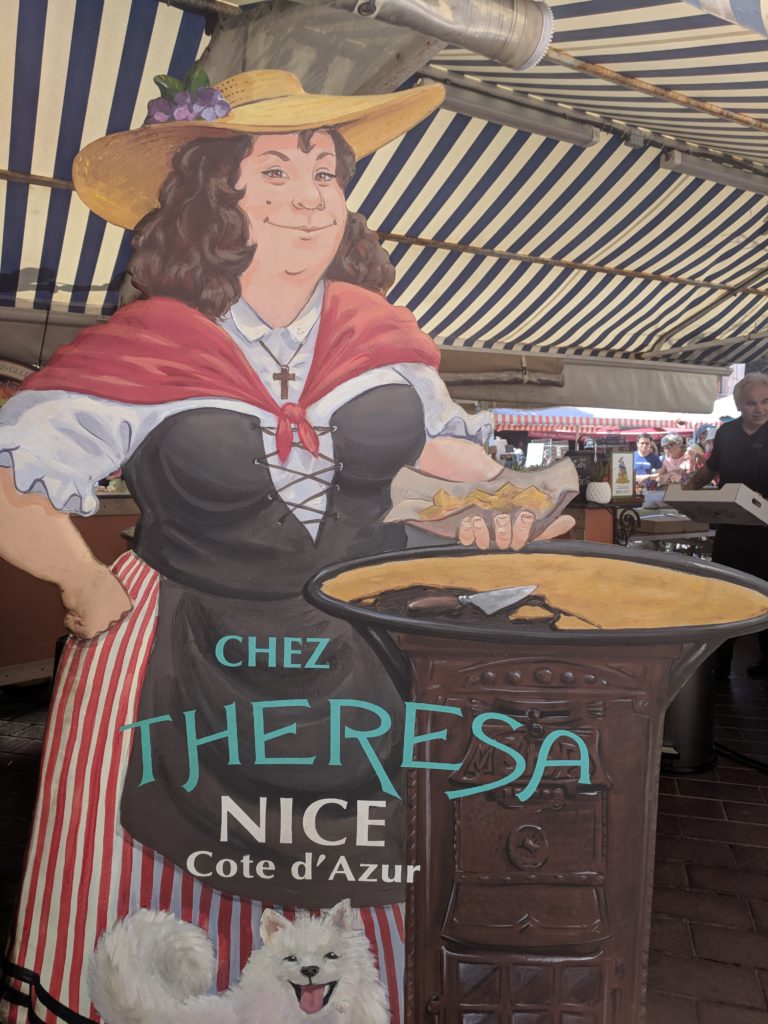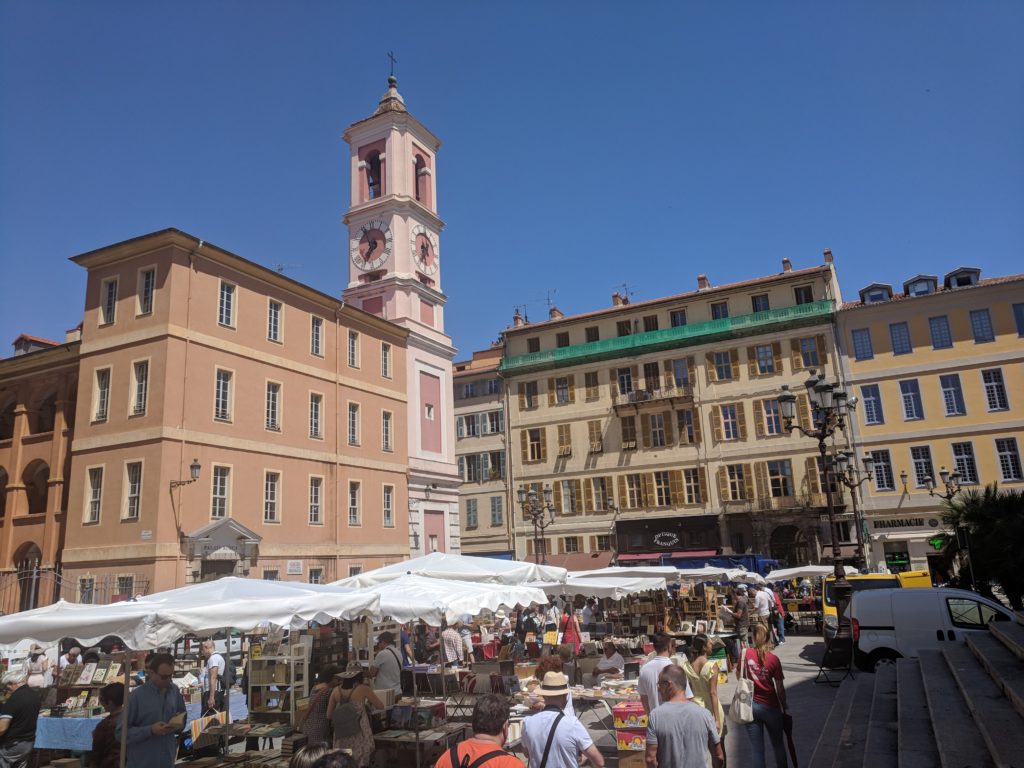 Day 2
On Sunday we had a lovely brunch at le Makassar, which is my favorite place for food I've been to during the entire weekend. They have a set menu for 20 euros and you can choose a chicken, falafel, bacon, fish, vegetarian or other menu options (they open at 11am on Sundays so make sure to plan accordingly and I'm not sure if they accept spontaneous walk ins, with no bookings – we booked!).
In the afternoon, we took an Uber to Eze The Exotic garden (15-20min drive) where we had the most beautiful views of the Mediteranean coast, surrounded by beautiful flowers, trees, narrow streets, a church, a waterfall, caves, etc. We spent about 2 hours there, then we went for a drink in Eze village wwhich was right next to the Botanical Gardens. You can also get there by bus 82, but on Sundays it doesn't run often.
After that, we returned to Nice city center for a traditional Socca at Rene Socca restaurant (chickpea bread, 3 eur only) and later we went for a dessert and some chocolates at Patisserie Lac (which I absolutely recommend).
I had a wonderful weekend in which I met some lovely girls and spent a great time in one of the most beautiful cities I have ever been.