Last week I visited my first country on the African continent which was super exciting. I grew up watching a series called The Clone filmed in Morocco which really made me curious about the culture of this country and Morocco did non disappoint indeed. I was fascinated by the place, the variety of landscape and intrigued by the bargaining culture :))
Before you travel
drones are illegal and they will be confiscated at airport, do NOT bring with you (ours was taken, RIP dronie)
wear clothes covering your shoulders & knees
pork and alcohol are not common as this is mainly a muslim/islamic country, but some places serve alcohol
book a desert and mountains tour (if you are staying for at least 6-7 days, as the dessert is 8-9h drive from Marrakesh – no stops): moroccodunes.com – email them from the website and pay 30% via PayPal (of the 300-400 eur total)
if you booked the hotels/riads in advance via booking.com, chose the payment option of paying them directly when you book via bank card
use Revolut bank card or smth similar and freeze the card for online transaction from Security Settings (actually freeze it for all operations and only unfreeze when you need to pay)
bring cash in euro to pay in Marroco and avoid paying by bank card (once in Morocco ask your hotel for a good exchange place and exchange eur in local dirhams); we used the Revolut bank card to take money out from ATM & pay at restaurants, but got hacked on the 2nd day. We immediately contacted the bank who deactivated the bank card (luckily we noticed fast & transactions were reverted by the bank, but they were basically taking money out every few mins)
to get from one city to another, take the train (prioritize over bus!) or the CTM bus (best bus line for comfort); A 3h trip from Fes to Rabat for e.g. will cost you around €8 pp for either bus/train (take first class on trains if available for €15 pp); to buy tickets, go a day in advance to the CTM bus station or train station (for certain routes like Fes-Chefchaouen go 2-3 days in advance if you want to take it at a popular time, like mornings).
take a small umbrella – when it rains in Morocco it really rains :))
it is hard to find a place to store your luggage if you are passing by a city for a few hours, as train stations won't take it for security reasons; for Casablanca we found a hotel near Casa Voyageurs train station – Al Walid hotel – where we paid around 15euro for 2 small luggages.
fair taxi price Marrakesh airport – Medina/center: 100drh/10eur
negotiate for almost everything (usually pay 25-50% of the asked price, with some exceptions); there are some places with fixed prices like the Ensemble Artisanal market in Marrakesh, but if you don't see a price on the item, bargain!
book a Riad instead of a regular hotel (Riads are beautiful traditional Moroccon houses with indoor garden/pool)
take a day trip to Essaouira from Marakesh if you only have a long weekend (beach town, take a 3h CTM bus – no train available)
I wouldn't advise to drive in Morocco as everything is a little hectic (donkeys, drivers who don't respect street signs, folks driving on red, motorbikes, everyone crossing the street randomly, etc.)
Hotels
These hotels are around 80 eur/room/night (breakfast included).
Marrakesh – Riad Anabel (my grade:10/10), Dar Yema (8.5/10)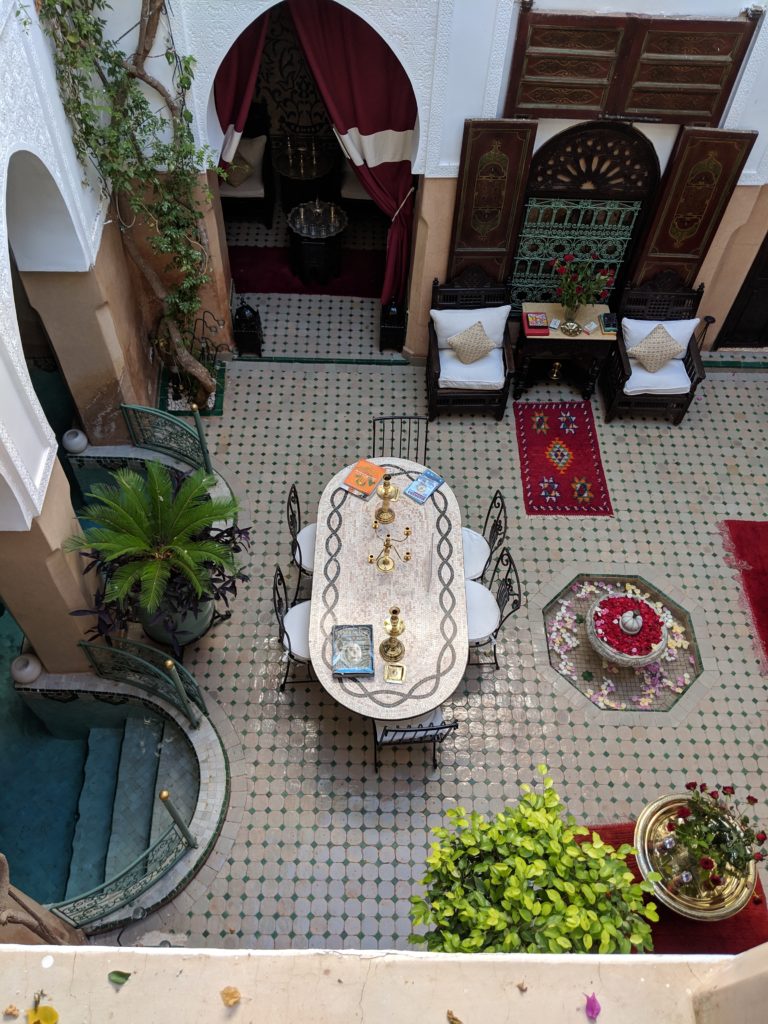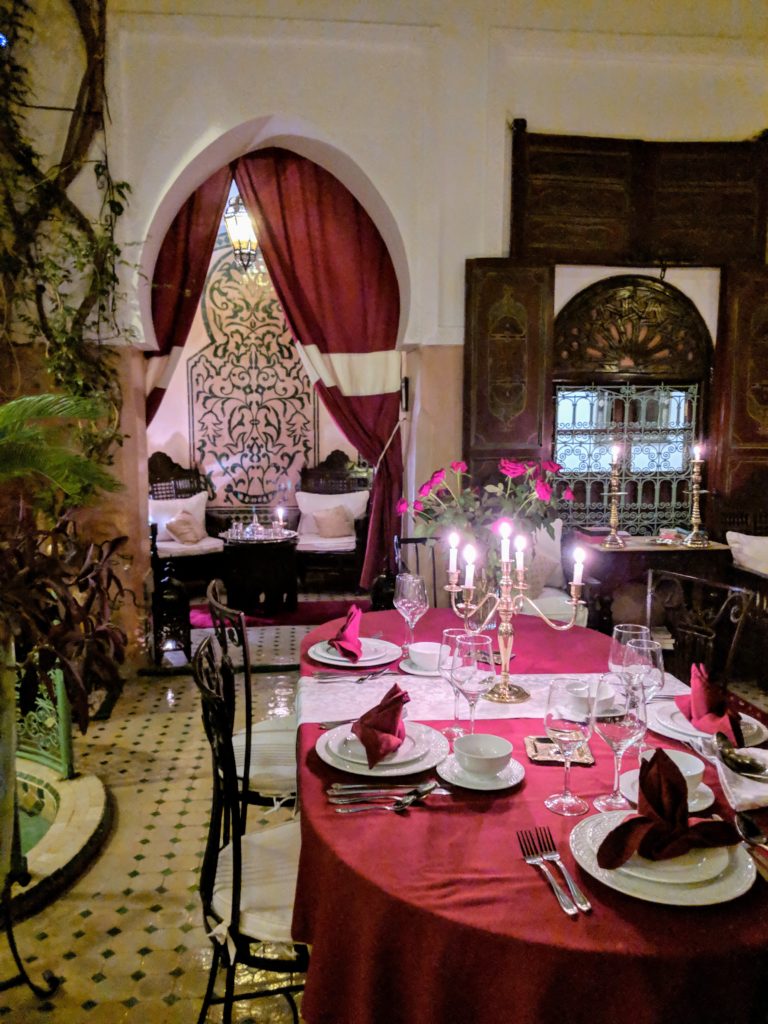 Ouarzazate – Ksar Tama Lodge (8/10)
Gorges Dades – Riad Dades (9/10)
Merzouga desert dunnes – Sandfish (8/10)
Fez – Riad Jean Claud (9/10)
Rabat – El Maati (9/10)
Food places
Marrakesh: Djemaa-el-Fna market nr 1 Chez Aisha (market kiosk, for local food dinner €5 pp, amazing food!); Zwin Zwin (€10 pp, hipster food place with nice rooftop terrace good for sunset); Naranj (Lebanese – my favourite!! €10 pp)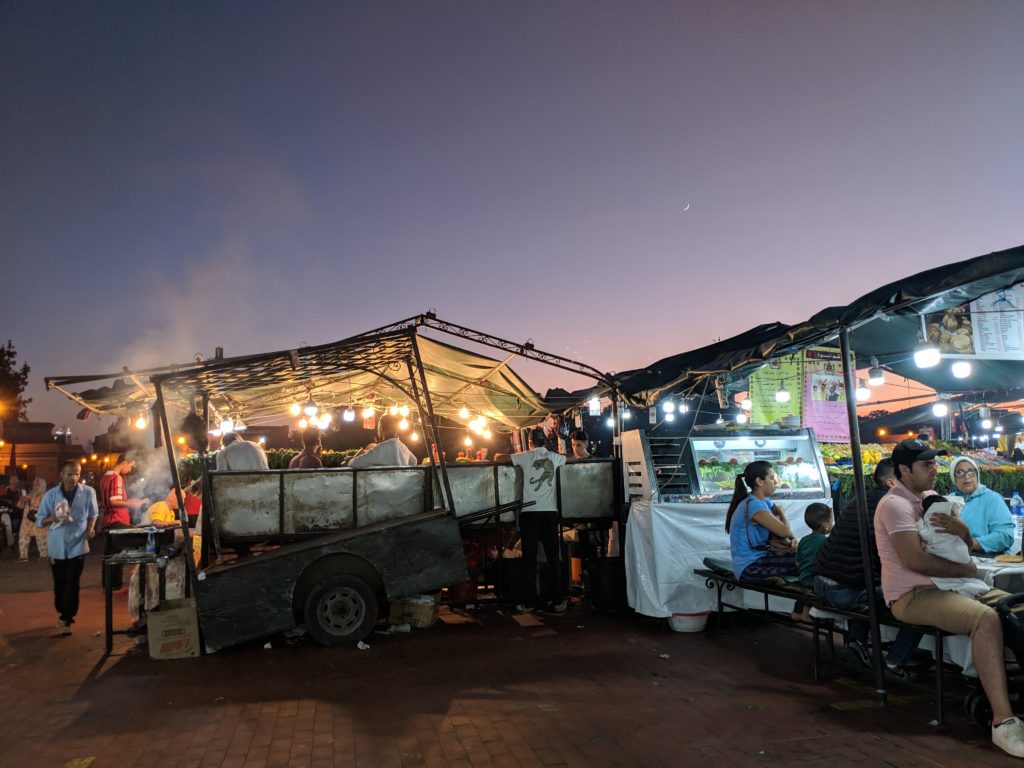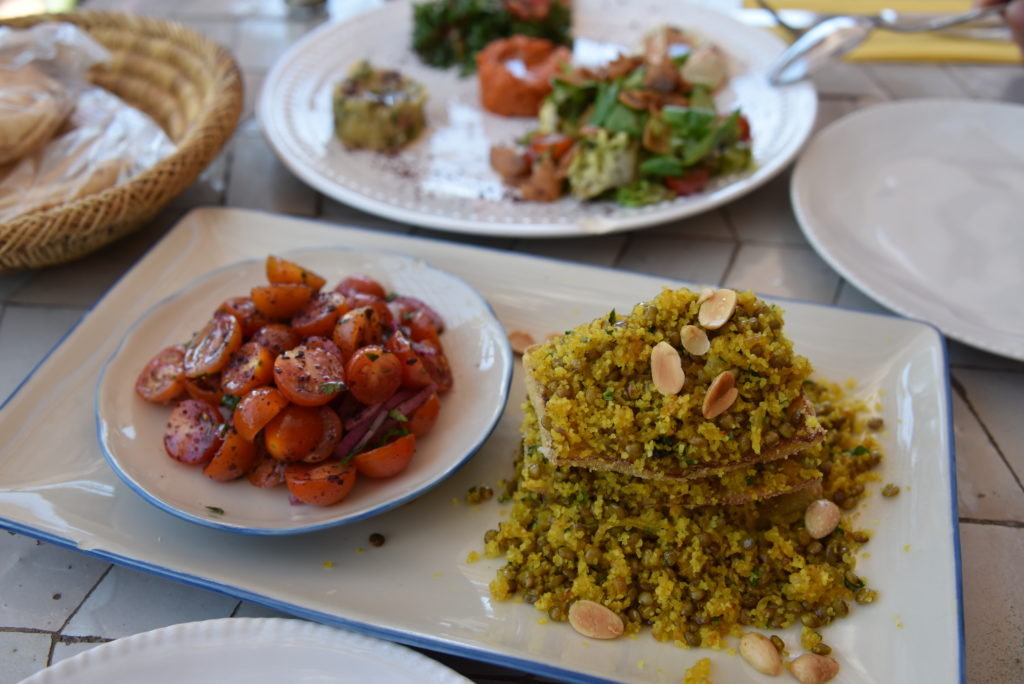 on the 4 day tour Marakesh-Merzouga-Fes: Telouet restaurant (near Telouet town Kasbah), Panorama restaurant (Gorges Dades), Atika restaurant (Midelt town)
Fez: Cinema Cafe
Casablanca: La Sqala
Rabat: Dar El Medina
Local activities/cuisine/crafts
hammams & massages (kind of a sauna where they scrub your body, we had a great one at the Riad Dar Yema – our hotel and Spa Rosa Bonheur – Marakesh, 20-25eur pp hammam-1h; 30-40eur pp massage-1h)
local seasonal fruits and veggies: grapes, pomegranate, avocado (autumn)
avocado & almonds drink, dates & almond drink
argan oil & rose water (do not buy from a random place in the market as it could be mixed with other liquids – in Marrakesh go to Ensemble Artisanal); carpets; silver, etc.
camel/dromadero ride in the desert
tagines & couscous are the main dishes in Morocco
Places to visit
on the 4 day tour: Telouet village and castle/Telouet kasbah, Ait Benhadou village and landscape (near Ouarzazate); Gorges du dades; Toudra Valley/Gorge; Merzouga dessert
Marrakesh: Ensemble Artisanal (market with fixed prices with handmade crafts); Bahia palace (go at 2pm to avoid huge queue for tickets and crowds); Majorelle/YLS gardens (go at 2pm)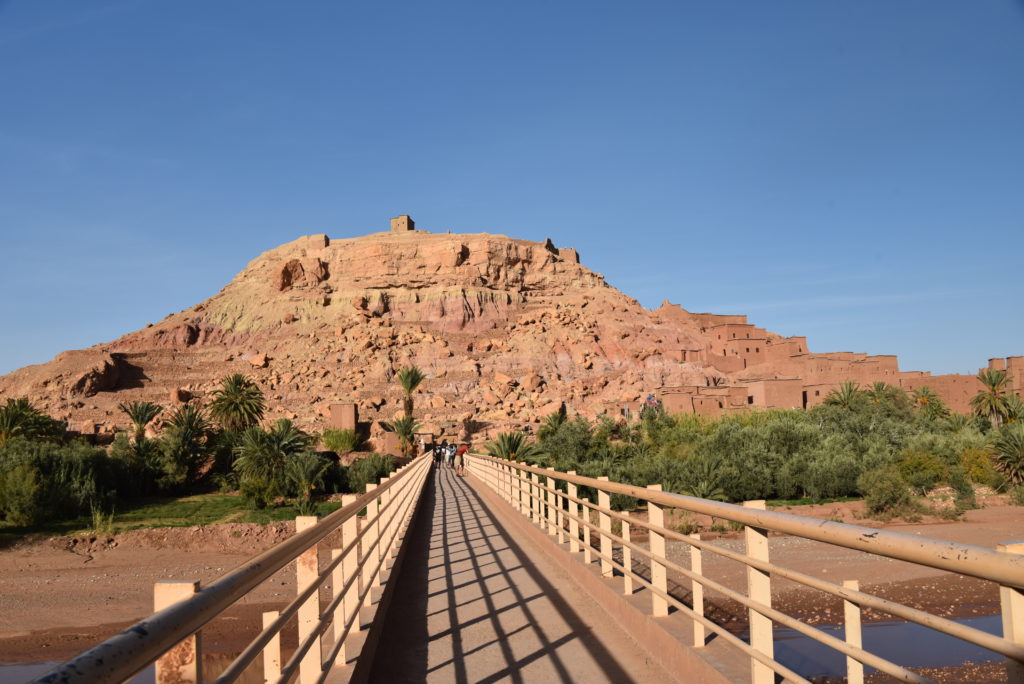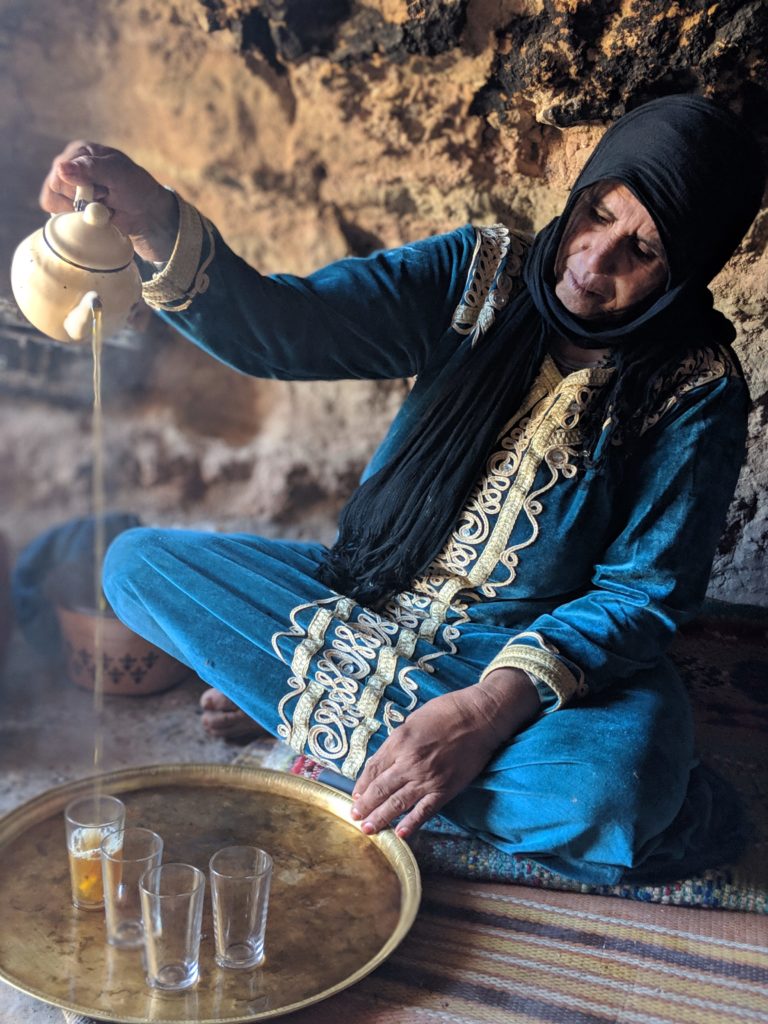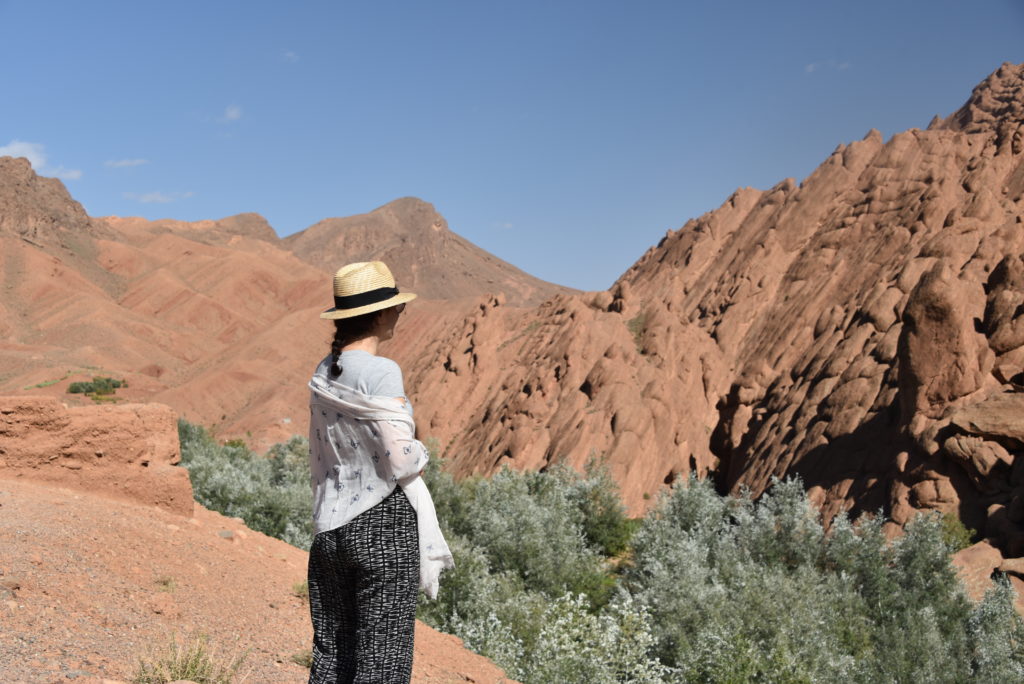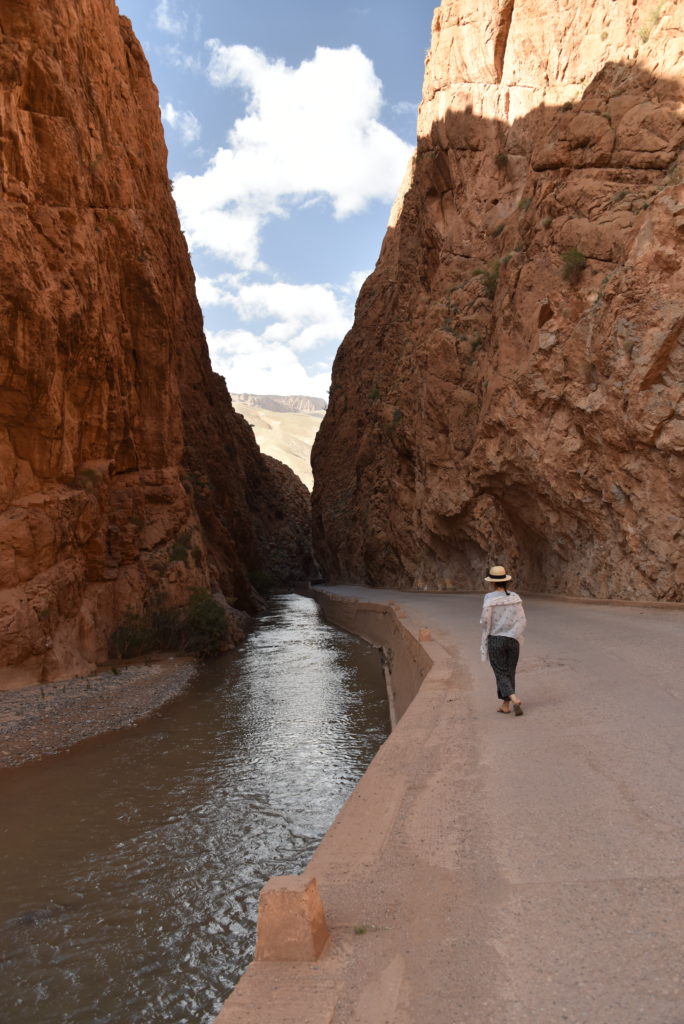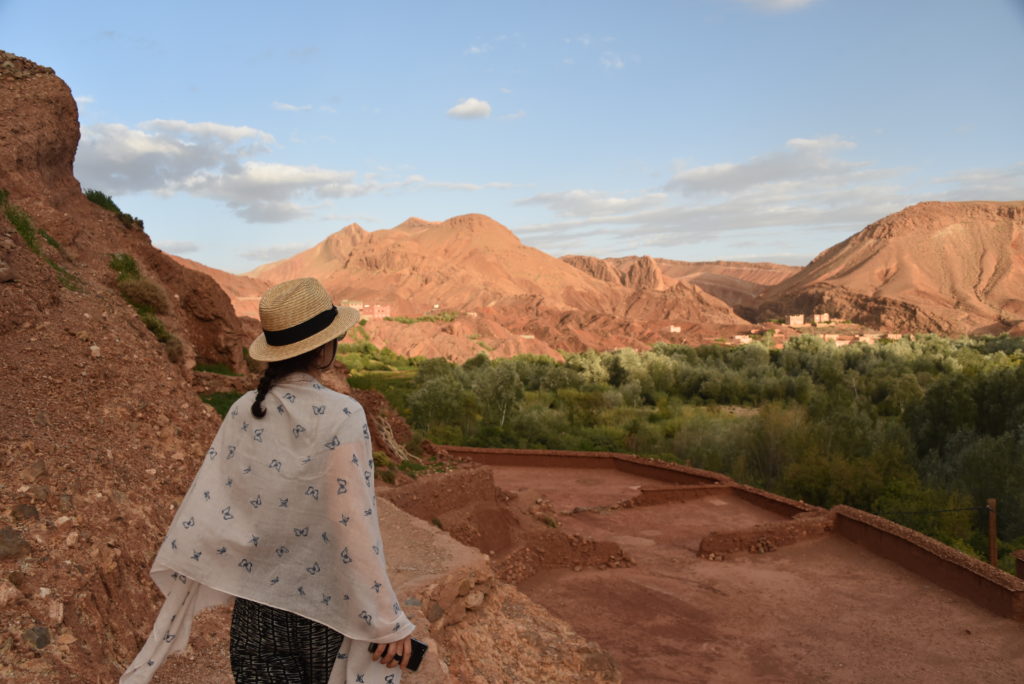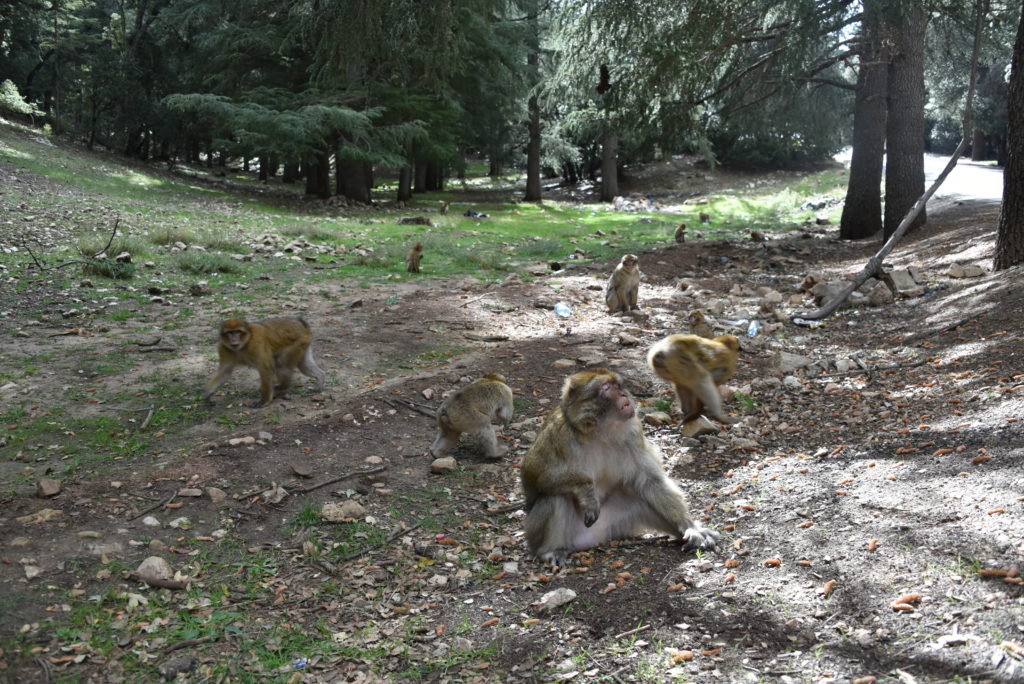 Tours I recommend
4 day private Marakesh to Fes tour through Atlas mountains and Merzouga dessert: http://www.moroccodunes.com/tour/marrakech-to-fes (€440 pp); you can also choose a tour that returns to Marrakesh or a longer/shorter one. The tour covers food, private transport (car), hotel, driver/guide.