Amalfi Coast & Naples, Italy (May 2019)
What kind of destination is it?
Amalfi coast is mainly a romantic couples destination. The high nr. of stairs makes is a bit more challenging for those with mobility issues or families with kids, but it's still doable if you prepare. It's also not necessarily a beach destination, but there are beaches in many villages on the coast, like Praiano, Positano, Amalfi, Atrani, Amalfi, Capri. Also, Naples is a fast paced city where people drive like crazy, so don't expect a French Riviera relaxed kind of experience; Amalfi coast, on the contrary is rather relaxed.
When should I go?
Best time of the year to visit the Amalfi coast is May to early October, as with most places in Europe, to increase chances for good weather, (usually around 20-30 C).
Where should I fly?
The closest airport is Naples airport, but some people also fly to Rome and drive from there (~3.5 h).
Where should I book accommodation?
I recommend spending at least one night in Naples (but not too long), then booking accommodation in either Atrani or Praiano (or both, like we did) for the Amalfi coast part. One way to do it is 1 night in Naples, 3 nights in Atrani, then 3 nights in Praiano and last night in Naples as well (this way, you can start in one side of the Amalfi coast, Salerno and finish in the other side of it, Sorrento). In Naples, I recommend staying in the city center, e.g. somewhere not too far from Antica Pizzeria Da Michele (but anywhere in the area I have highlighted below should be fine). For your last night, for convenience, you might want to choose accommodation not too far from Naples central train station (Garibaldi). Keep in mind that accommodation is pricy in Amalfi coast vs. other parts of Italy.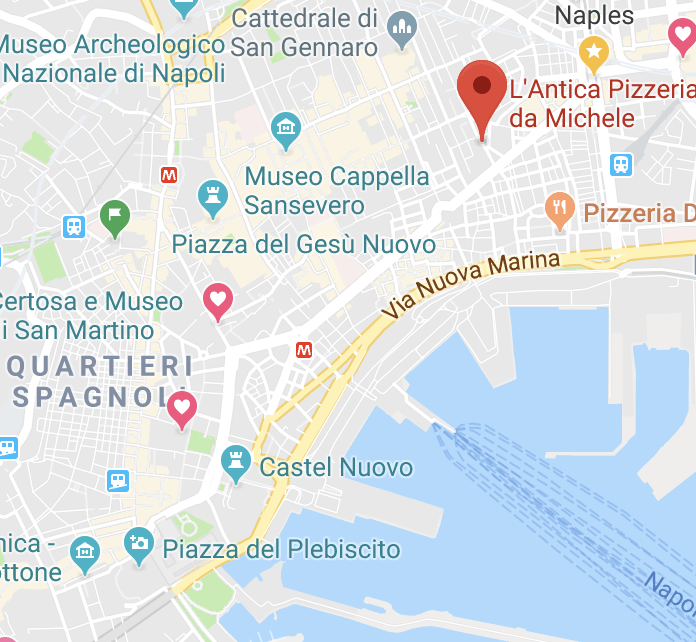 What about transportation?
From Naples, you can get to the Amalfi coast by public transport (train+bus; ~3h; 7eur), rent a car (1.5h) or get a private shuttle/driver (e.g. 120$). We decided to go for public transport and we did day trips, by public bus or boat, to different places. If you choose to rent a car, take full insurance as roads on the coast are super narrow which makes it easy to damage your car. Also know that parking will be hard to find & expensive, as well as hotel overnight parking will cost you more than regular places; however, you do have more flexibility as you don't have to wait for the bus which is sometimes full & won't stop.
Places to visit
Naples
Museo Archeologico Nazionale di Napoli (prehistoric artefacts, coins, ancient art). Expect a big queue to enter the Museo Archeologico.
Napoli Sotterranea (ancient cave tours under city streets).
Stroll around via Gregorio Armeno.
Where to eat: l'Antica Pizzeria Da Michele (featured) in Eat Pray Love, serves only 2 kinds of pizzas: Marinara and Margarita at about 5 eur each; TIP: go there at 10 45 am, 15-20mins before they open to avoid the humongous like and take the pizza to go if you are not hungry eat. Also try Gino e Toto Sorbillo and follow the same strategy to minimize waiting time.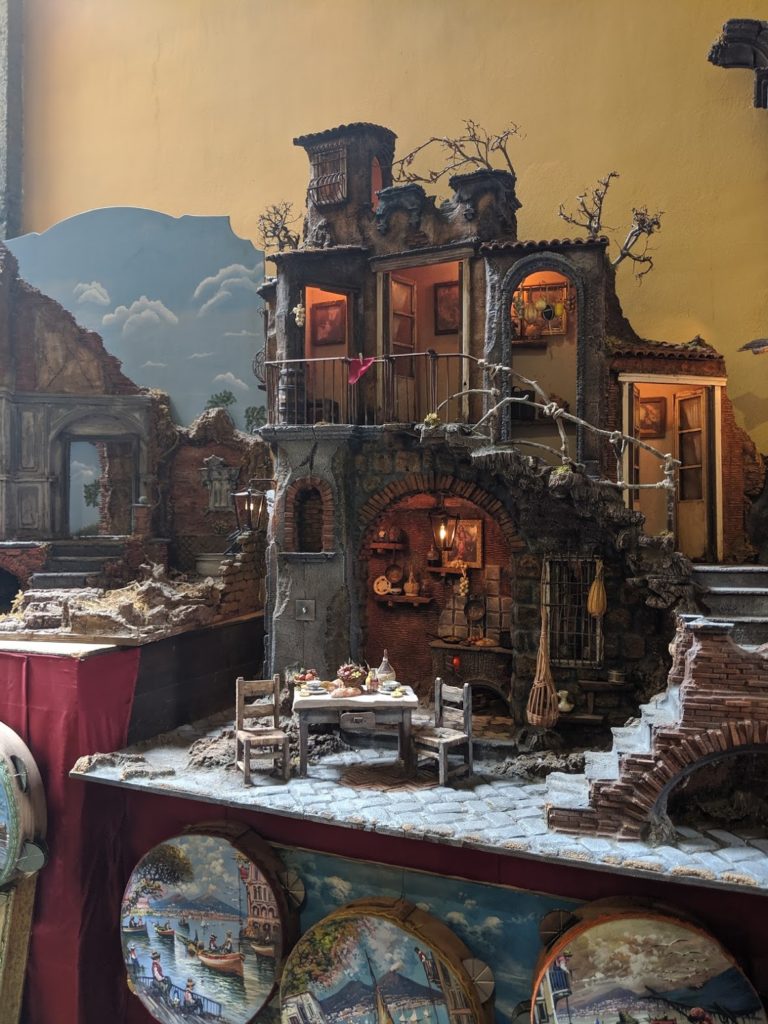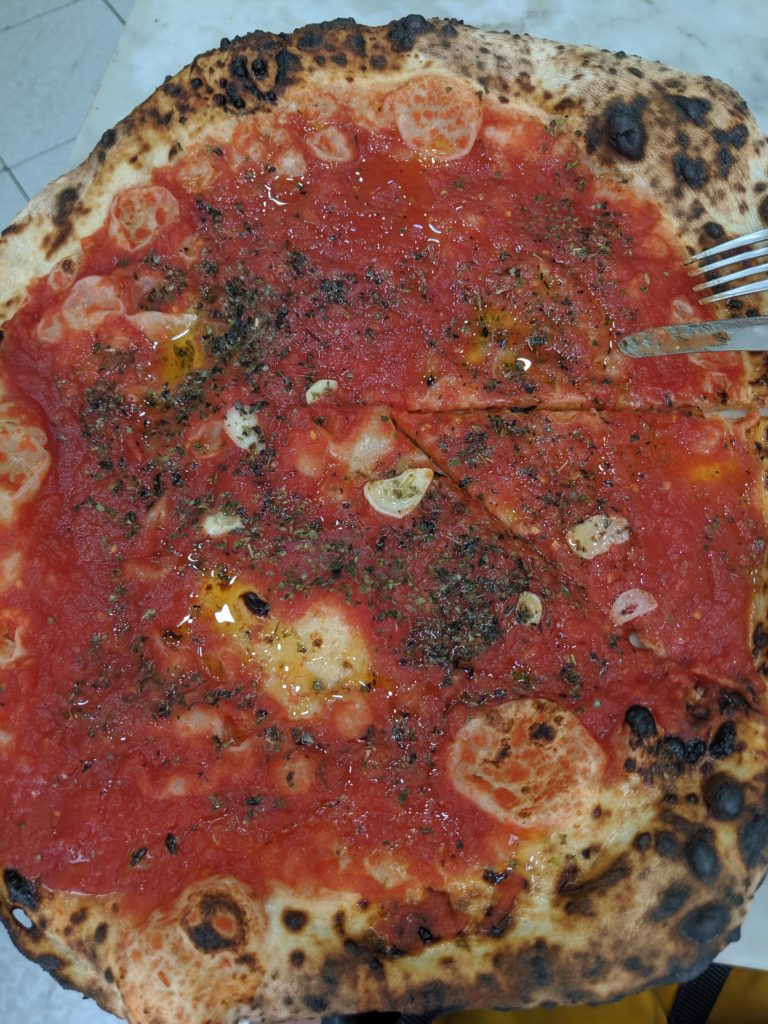 Atrani/Amalfi town
Walk around the streets of these 2 beautiful villages, located a 10min walk from each other, by the waterfront. Spend some time on the beach. Also, have some gelato in Amalfi as it was the only place in Amalfi coast with great quality gelato.
Where to eat: Ristorante Savo in Atrani (probably in my top 3 best in the entire coast); for gelato head to Amalfi town for Ciocolato Andrea Pansa; don't miss the juice places in Amalfi, where they make fresh Amalfi coast lemon or orange juice.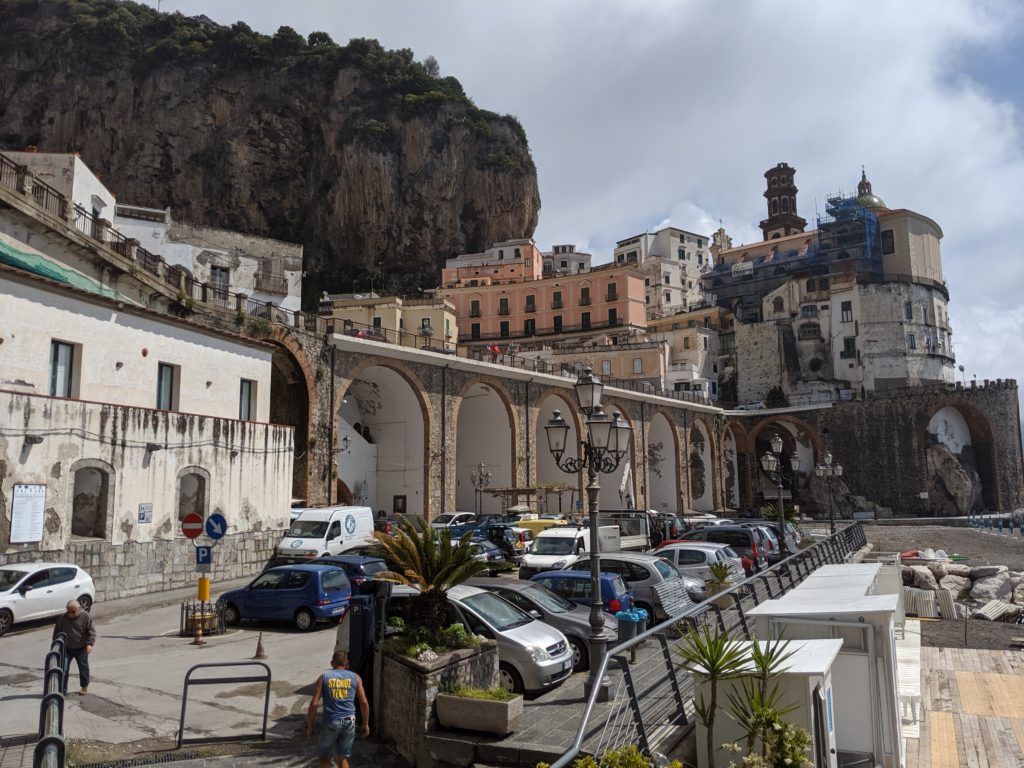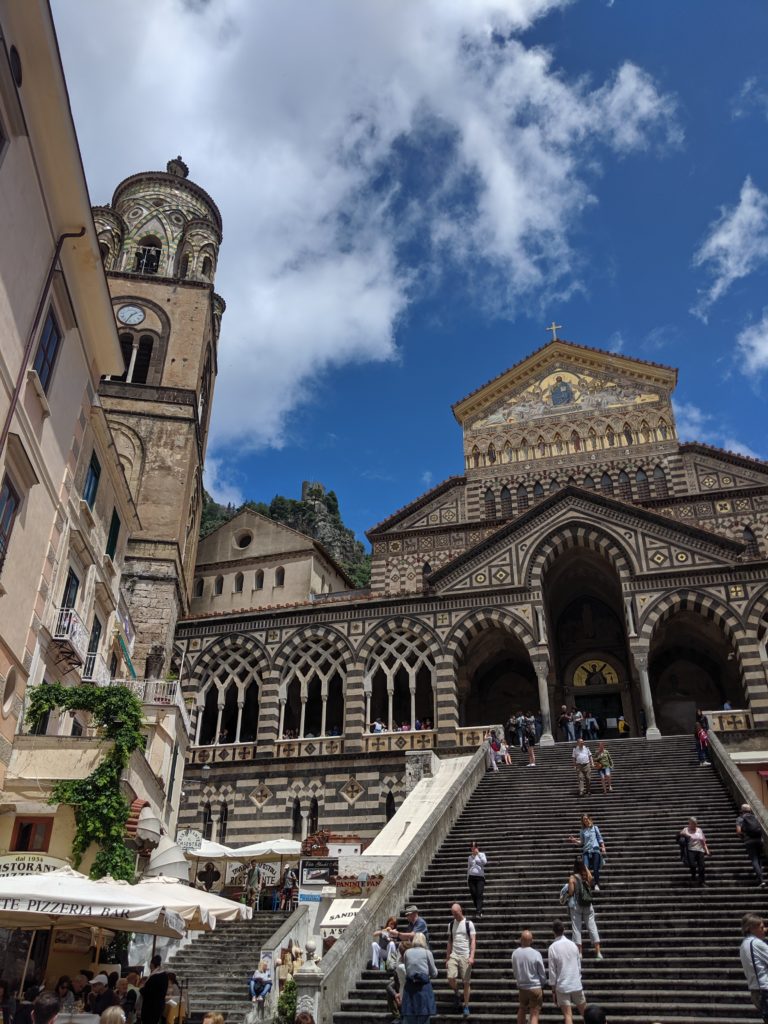 Ravello
To get here, you can either drive, do a 1h hike from Atrani/Amalfi or catch the bus from Atrani/Amalfi. This village is situated at the top of the hill and has beautiful views of the coast. Don't miss Villa Rufolo gardens!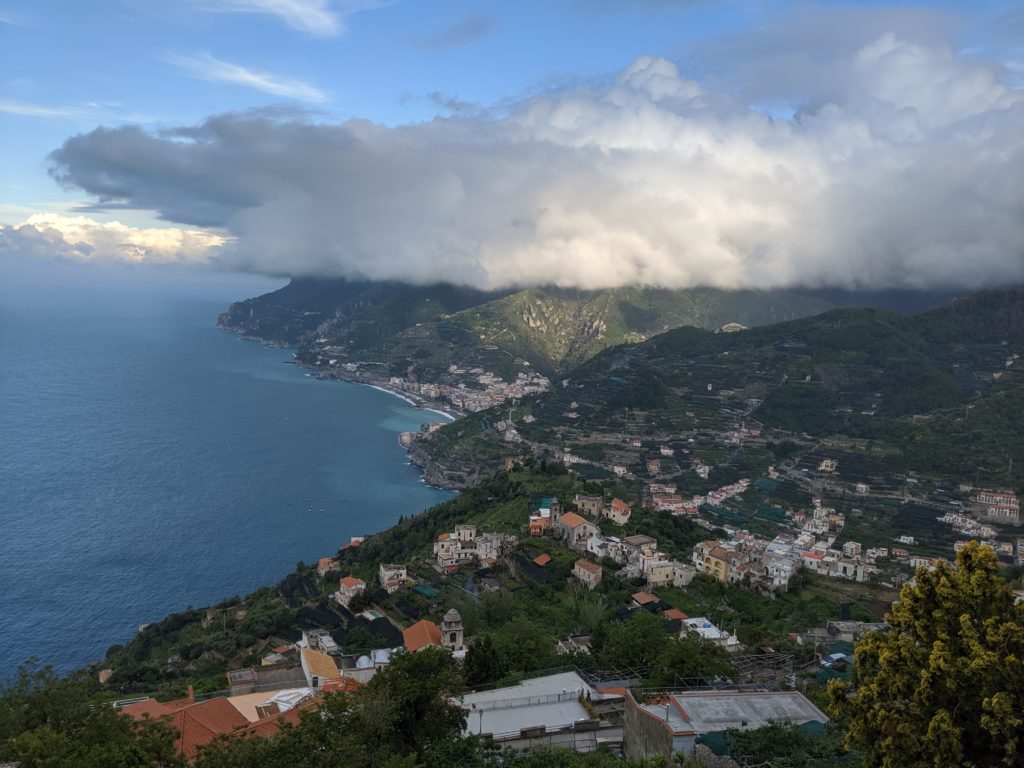 Capri island
A day trip to Capri is a must. The easiest way to get there is by taking a boat from Amalfi or Positano (from Positano being shorter as it's closer). While there, visit: Capri town, Anacapri town, check the view at Belvedere Tragara and Gardens of Augustus. Spend some time at Marina Piccola Beach. Try the Caprese salad and the Caprese cake, as well as Goat cheese ravioli. We moved around by foot & bus as the island is small.
Where to eat: Pulalli restaurant in Capri town.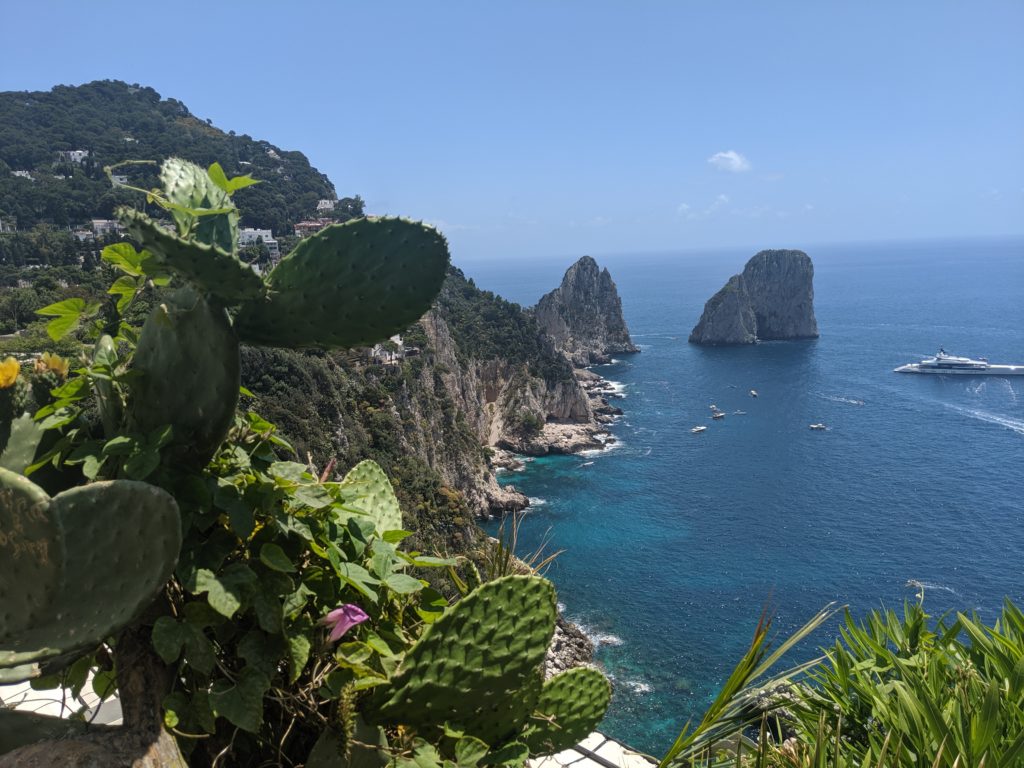 Praiano
There is not much to visit Praiano but it is a nice place to stay as it is close to Positano and has great food choices & a beach.
Where to eat: Kasai (casual), Ristorante Franchino (great view, special occasion)
Where to drink: Voce e Notte Grill & Sunset Bar has the best views.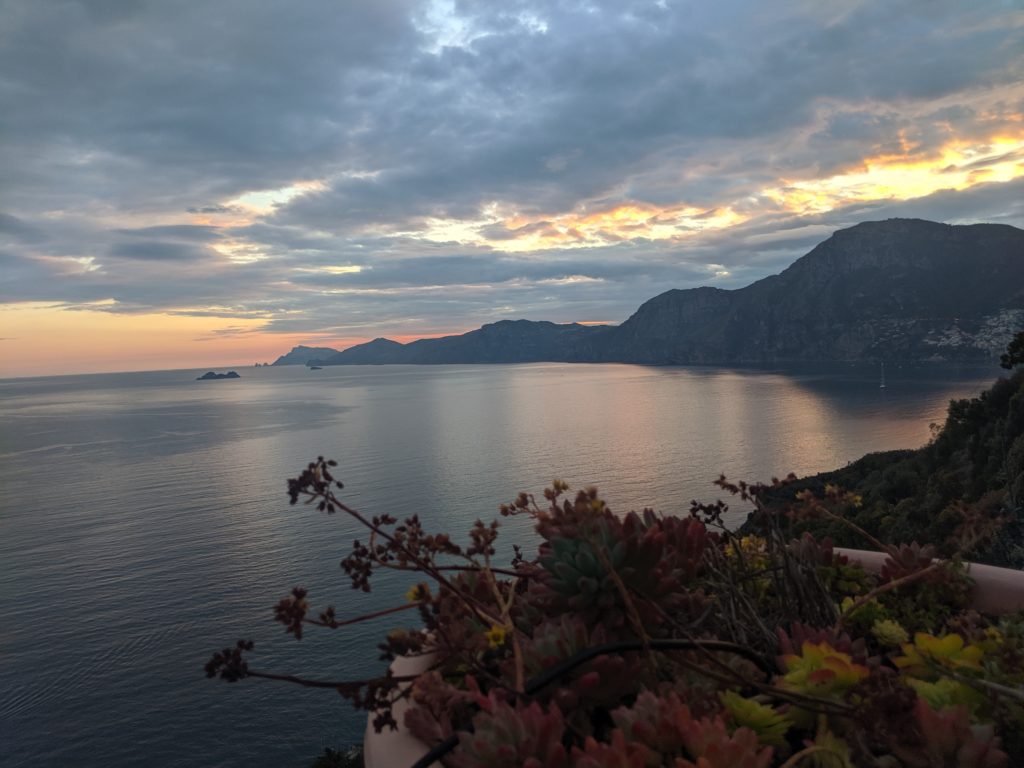 Positano
Stroll around the streets of Positano (the poshest city of all) and spend some time on the beach.
Where to eat: Casa E Bottega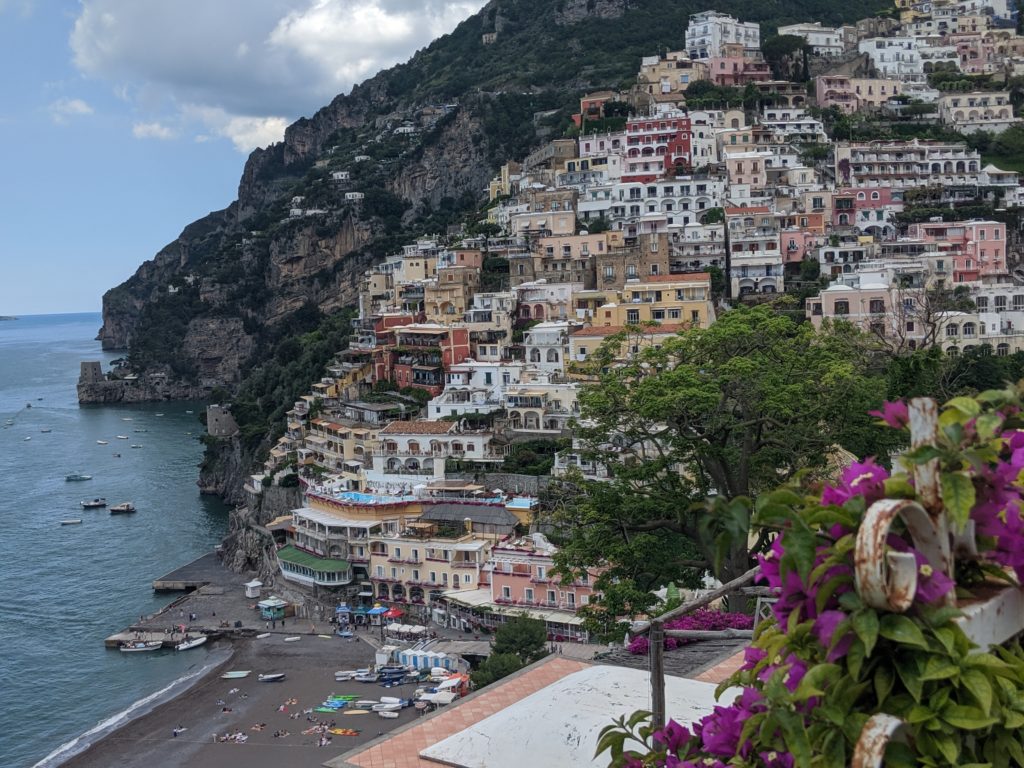 Sorrento
We only had a few hours to stroll around the streets of Sorrento, which seems like a nice places for families with kids, with beautiful architecture, but not so amazing restaurants/food. We did like this gelato place: Fresco Sorrento.
Other tips
If you are into hiking, there is the Path of Gods (Il Sentiero degli Dei), which starts in Agerola and finishes in Nocelle. Eat at Ristorante Santa Croce in Nocelle at the end of your hike 🙂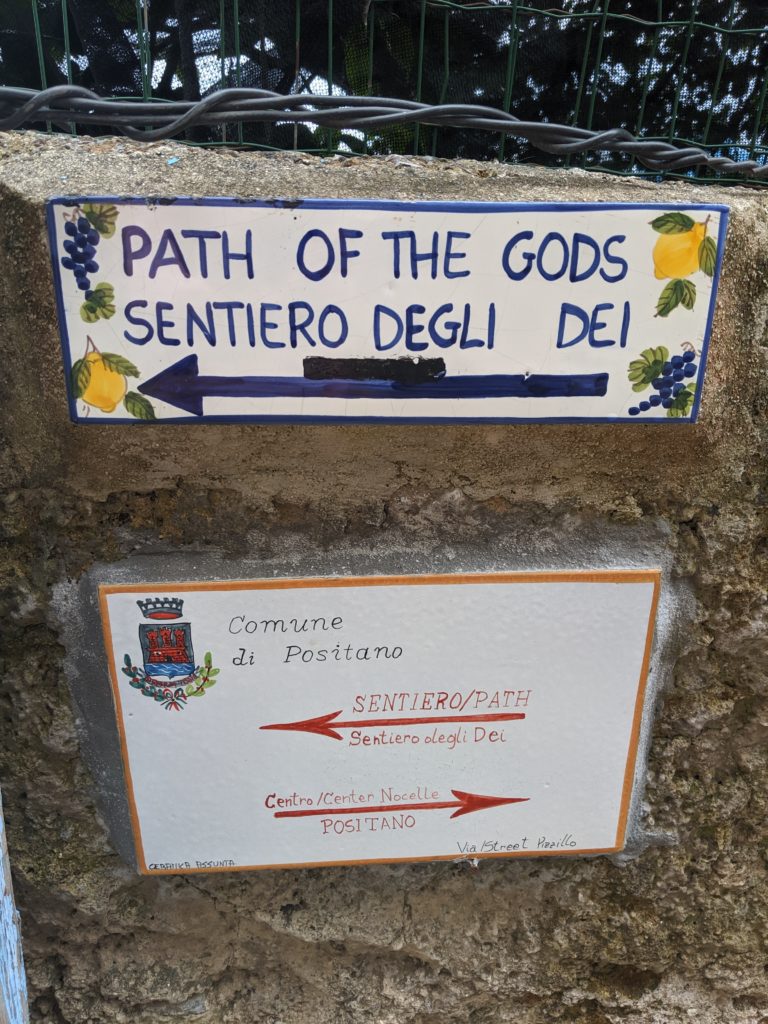 If you have time & weather allows, I also recommend staying one extra night in Naples and doing a day trip to Mount Vesuvius and Pompei.